Urban Data Challenge: Was seither geschah
Die Gewinner des Urban Data Challenge wurden vor mehr als zwei Wochen am 6. April in San Francisco bekannt begeben. Was ist seither mit den eingebenen Projekten geschehen?
Wie sich bereits herumgesprochen hat, war der Urban Data Challenge ein voller Erfolg. Gemeinsam organisiert von swissnex San Francisco, GAFFTA, Lift und OpenData.ch und mit der freundlichen Unterstützung der Städtischen Verkehrsbetriebe Genf, San Francisco und Zürich konnten insgesamt 21 Projekte realisiert werden, wobei über 60 Personen daran beteiligt waren, als Designer, Programmierer oder "data scientists".
Die Preisverleihung in San Francisco wurde unter anderem live nach Zürich gestreamt, inklusive Skype Konferenz-Schaltung. Wer die Preisverleihung nicht gesehen hat, findet das komplette Video auf youtube. Zu den Preisträgern, unten aufgelistet, gibt es bei swissnex einen vertieften Artikel: Winning the Urban Data Challenge.
Was ist seither geschehen?
TransitVis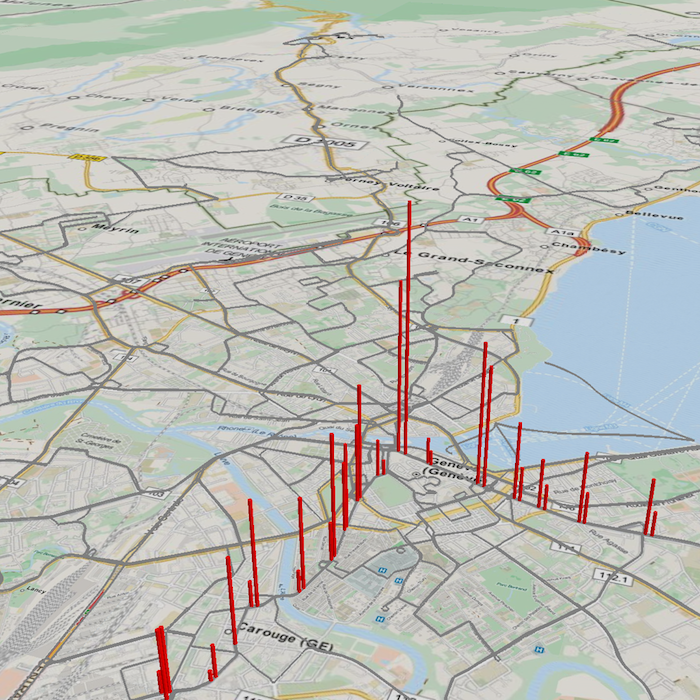 TransitVis wurde mit einem Dritten Platz ausgezeichnet. Das Projekt von Michael Dougherty und Steve Gifford konnte mit perfektem Timing ihre iPad App am Tag der Preisverleihung auf dem app store aufschalten, wo sie seither gratis heruntergeladen werden kann. Die Daten werden als zusätzlicher Download ebenfalls gratis heruntergeladen. Bisherige Download Zahlen sind leider keine ersichtlich.
"What's next for TransitVis, you might ask? All the interesting technology is in WhirlyGlobe-Maply so that'll be popping up in client projects. For the app itself… we'll wait to see if anyone uses TransitVis for anything and go from there."
Genève transit simulator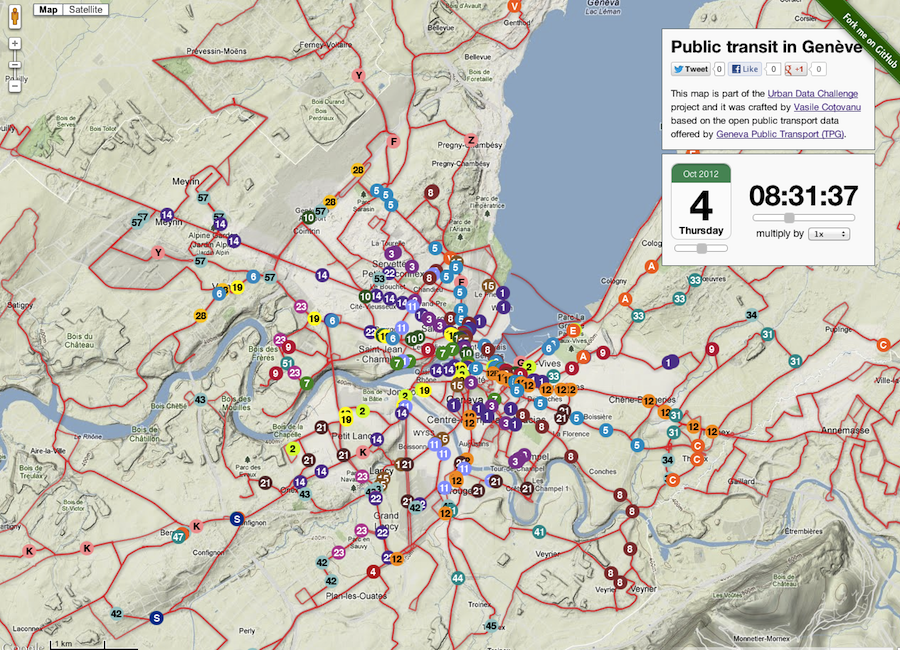 One Map, One Week in Public Transit von Vasile Cotovanu und Robert Ille erhielt beim Urban Data Challenge ein Honorable Mention. Am 18. April wurde es auf dem Google Geo Developers Blog zur Map Of The Week erklärt. Speziell gelobt wurde die Umsetzung des Google Map Features "Symbols on Polylines":
"The map uses Symbols on Polylines to display the predicted motion of the tram or bus. It uses a 'mouseover' event on each of the markers to open an div element displaying more information. … It's a nice demonstration of the power of our Symbols on Polylines and the power of public data in conjunction with maps."
Öffnen Schweizer ÖV-Betriebe bald ihre API?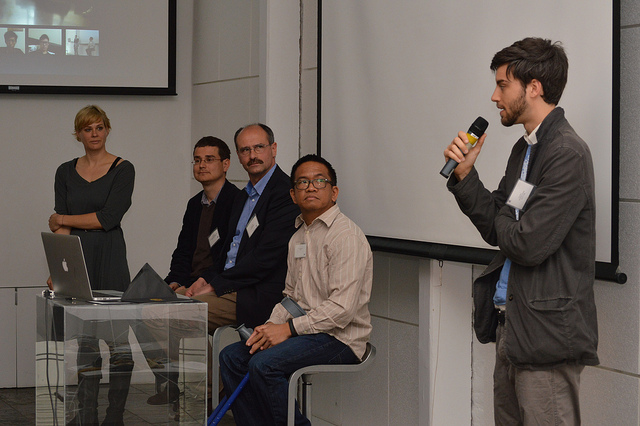 Auch bei den Datenanbietern hat der Urban Data Challenge sich positiv ausgewirkt. Neben den TPG in Genf, die bereits vor dem Challenge ihre API offenlegen wollten, soll dieser Schritt nun auch bei den VBZ in Zürich diskutiert werden. Wir sind gespannt wie es auf dieser Seite weitergeht.
Antoine Stroh von den TPG informiert, dass ihr API bis im Juni offengelegt werden soll, es könne aber auch Juli werden. Die öffentlichen Präsentationen der Gewinner Projekte des Urban Data Challenge seien für später im Jahr geplant, und zwar während der OKCon 2013, die dieses Jahr bekanntlich vom 17. und 18. September in Genf stattfinden wird.
The Winners
Weitere Artikel zum Thema:
Ariel Schwartz: 3 Creative Ways To Visualize Urban Public Transportation
Fumi: Urban Data Challenge
Lift: Winning the Urban Data Challenge
Flickr: Urban Data Challenge Awards
Presse:
The Frustration of San Francisco's Mass-Transit Riders, Visualized
Un concours récompense les meilleures applications sur les transports publics
TeamUP wins third prize in Urban Data Challenge