Open Data Student Award 2019 Winners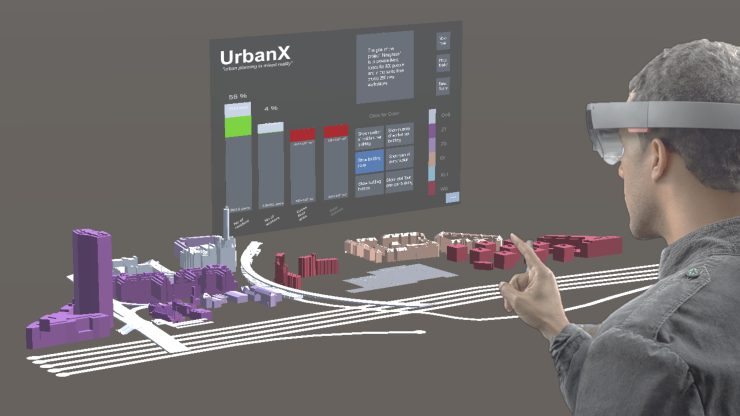 On 4 July 2019, at the ninth annual Opendata.ch Forum, we announced the winner of the 2019 Opendata Student awards.
First of all, we would like to thank all participants for their effort in coming up with all the great projects that participated in last years competition. All of your ideas were very inspiring and unique in their own way and each of you has made a valuable contribution to our cause in making effort to use, re-publish and to promote open data.
Our jury has, on the one hand, had the great pleasure of going through all of your projects over the last few weeks. On the other hand, they have had to make the very difficult decision of choosing one project as the final winner But in the end, a decision was made:
Congratulations to Daniel Laumer and Hasret Gümgümcü and their project UrbanX – Urban planning in mixed reality. The two students from ETH Zurich currently doing their MSc in Geomatics-Engineering have shown extraordinary creativity, technical expertise and vision with their project. The project fulfilled all of the criteria for the award: analysing and using an important yet commonplace data source and combining it with new, exciting technological possibilities whilst bringing clear benefits to the public, thereby showcasing the applicability of open data in everyday contexts.
"The open data community is looking for answers to the question of how to better represent the diversity of datasets, putting them into new clothes, so to speak. The hitchhiker's guide to Swiss Open Government Data is a project that points the way in such a direction."
For a full list of all the applications please see below:
Projects 2019
1. Developing an Index for measuring data quality of published open government data: Insights from opendata.swiss.
A frequent problem with OGD is that there is a lack of standards for how to publish data on open platforms. The format used is not always machine-readable (e.g. pdf), the descriptions of the data (i.e. metadata) are not complete or the re-use of data is subject to conditions (e.g. license or cost usage). The project entails the compilation of a Compliance Index to analyse the Swiss OGD platform, opendata.swiss in order to measure the adherence to good practice standards for publishing OGD.
2. UrbanX – Urban planning in mixed reality
UrbanX is a Hololens application for efficient and interactive urban planning in a mixed reality environment using open data from Stadt Zürich. In combination with the Microsoft Hololens, a recently developed pair of head-mounted mixed reality smartglasses, which lets the user place virtual holograms in the real world and interact with them using specific gestures, the application should display the buildings in the region of interest and let the user access the attributes of each object in an easy and intuitive way.
UrbanX – urban planning in mixed reality
3. Infrastructure disturbance cockpit Bernmobil
A web application in the form of an online cockpit, from which one can see at first glance key figures and information about infrastructure disruptions of Bernmobil. The app uses open infrastructure data from Bernmobil for this purpose.
4. Trockenstress: How increasing drought is affecting our Swiss forests
High dryness has a great influence on the vitality of forests by making photosynthesis impossible, thus increasing forest mortality. The Trockenstress app is designed to visualize drought data of Swiss forests from the Federal Office for the Environment (BAFU) and to present it in a simple and meaningful way, thus allowing both an overall impression and a detailed in-depth study.
5. Water Fountains
A web app that uses Wikidata, Wikimedia Commons, OpenStreetMap as data repositories which allows you to find nearest drinking fountains or even discover famous fountains with image galleries, videos, and links to Wikipedia. The idea is to bring people to stop buying plastic bottles and start enjoing local water.
6. ÖV-Güteklassen 2018: New methodology for assessing public transport access
The specification of public transport quality classes recognised today by the Federal Office for Spatial Development (ARE) is based on a Swiss standard from 1993, which has since been replaced. The newly developed public transport quality classes 2018 combine the findings of some cantonal solutions and improve them with the current technical possibilities with the aim of creating a generally valid specification for Switzerland.
7. Gleich für gleich: gender-specific wage trends in Switzerland
Transparency can counter wage discrimination based on origin, gender or residence status among others. The app aims to make wage discrepancies between the two sexes easy to see at a glance and accessible as many people as possible. It does so by allowing them to track wage trends and the development of the gender gap over the years 2008 to 2016.
Lohnentwicklung in der Schweiz seit 2008
8. Structural change in agriculture
The steady decrease in farms across Switzerland has been a recurring theme for several years, with small farms suffering in particular. The web application "Structural change in agriculture" brings the topic closer to the reader in a playful, interactive visualisation of Swiss farm holdings of the last 35 years.
Strukturwandel in der Landwirtschaft
9. Swiss popular initiatives in the context of time
A visualisation of popular initiatives since 1860 with a breakdown of the topics according to accepted and rejected proposals gives a deeper insight into the voting behaviour of the Swiss people and illustrates that the historical context has a significant influence.