Community Insights – what we found out about the Swiss open data community
For us at Opendata.ch it is clear that if we want to truly move towards a fair, free and open society, where Open Knowledge is a design principle that is embedded in every movement and institution, we need to have the entire community along for the ride. There needs to be a clear understanding of the movement that we are a part of including both where we are headed and why it is important. Thus, our first step towards this end was a situational assessment – a bird's eye view of the current state of the Opendata.ch community.
Specifically, we wanted to know who is part of our community, what they are most curious about and what they wish to see more of.
So let's dive in and see what you shared with us!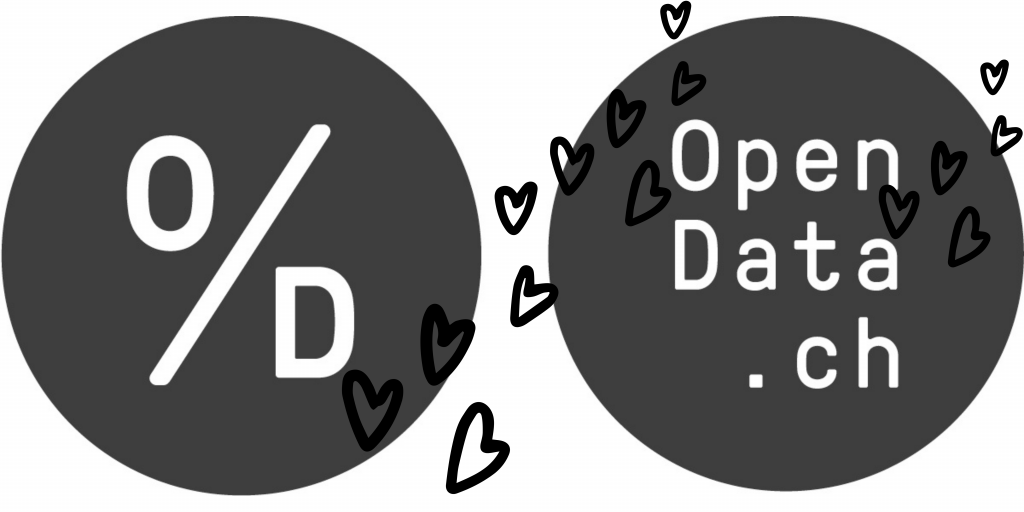 Who is part of our community?
Our community has quite a large variety of professional backgrounds – ranging from a majority in IT/Tech & Academia all the way to Tourism & Agriculture. Exactly half of the survey participants are between 21-35 years old and a bit over three quarters are based in German-speaking Switzerland. Our social media channels also keep growing consistently, with an average of around 35 new followers per month across both Twitter and LinkedIn.
What is our community interested in?
"I am convinced, that we can solve so many problems and make a better life for most, when we work together and do not waste time repeating someone else's work, but rather build upon it."

Survey Participant
"The open approach is full of potential. It enables true transparency, supports better, evidence-based decision-making and works as basis of eye-level cooperation across sectors and organisations."

Survey Participant
Overall our community seems to be most interested in the co-creation and collaboration that open knowledge enables, as well as increasing digital participation more widely in our society. We are glad to hear this, since these points resonate strongly with our association's mission. Some other topics of interest include the philosophy & vision of the Open Knowledge movement, the role of Open Knowledge in a 21st century democracy, as well as the decentralisation of knowledge & power resulting from increased openness and sharing.
Some specific questions that our community is interested in include:
What is the history of the open knowledge movement? What lessons have been learned thus far?
What vision are we working towards? Are there milestones we can use to measure progress?
Why is open data important for a healthy 21st century democracy?
How can we incentivise more organisations to open their data?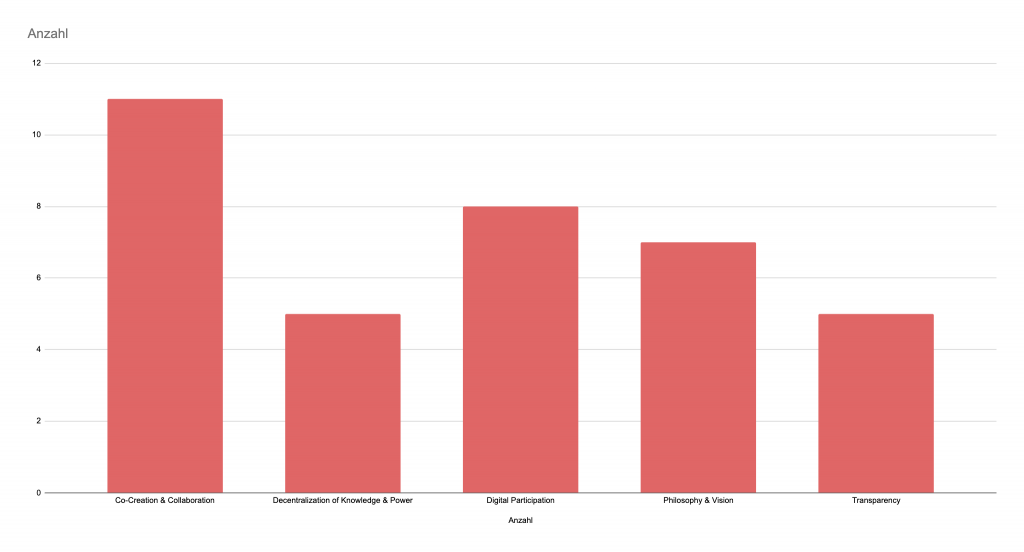 What does our community want to see more of?
"I know a lot about data. However, I do not know a lot about the ideology and ideas of open knowledge. I would like to know more about it, since information and open information is very important to me. Networking is always great and inspires. I have made very useful connections through Opendata.ch in the past and hope to do the same in the future."

Survey Participant
Our community also has a strong desire for more content on open knowledge (which includes topics such as open data, open source, open society etc.) as well as more events to get inspired and exchange ideas. More specifically, this includes more content about the philosophy and vision behind "Open Knowledge" as well as more tangible examples of projects that use(d) open data with concrete benefits to society. Event-wise, there is a strong wish for more regular workshops and knowledge exchange within the community.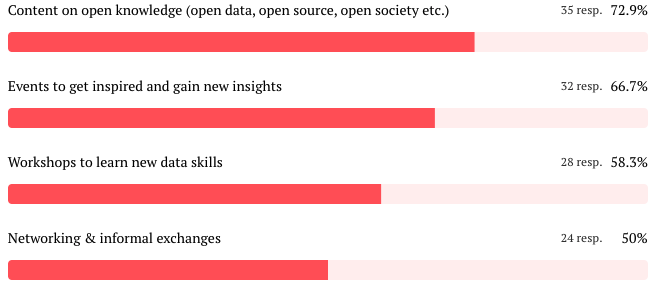 Next Steps
Firstly, we would like to share a big thank you to the almost 50 people who participated in this survey and are excited to begin working on new projects to satisfy our community's wishes! Keep an eye out for some exciting upcoming projects later this year!
Some easy ways to get more involved include:
– attending a hackathon
– attending the Opendata.ch Forum on June 23rd
– becoming a member
If you are interested in these topics and want to meet other like-minded open data enthusiasts we also recommend checking out Open Data Beer. You can find them on Twitter to stay up to date!
And finally – congrats to the three lucky book winners who each won a copy of "Invisible Women" by Caroline Criado Perez!