Konferenz ausgebucht – Open Government Data in der Schweiz nimmt Fahrt auf
MEDIENMITTEILUNG
(deutsch: PDF/DOC, English: PDF/DOC)
Update: Slides und Videos der Konferenzbeiträge sind ab sofort verfügbar.
Mit über 150 Teilnehmenden hat heute die vollständig ausgebuchte opendata.ch 2011 Konferenz im Bundesarchiv in Bern stattgefunden. Parlamentarier, Verwaltungskaderleute sowie Vertreter von Wirtschaft, Forschung und Medien haben an der ersten Schweizer Konferenz über frei zugängliche Behördendaten teilgenommen. Gemeinsam konnten Vorteile und Herausforderungen von Open Government Data in der Schweiz diskutiert sowie wichtige nächste Schritte festgelegt werden.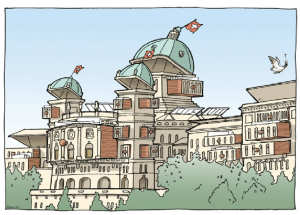 Eröffnet wurde die opendata.ch 2011 Konferenz durch Edith Graf-Litscher, Nationalrätin und Co-Präsidentin der Parlamentarischen Gruppe Digitale Nachhaltigkeit sowie Andreas Kellerhals, als Direktor des Schweizerischen Bundesarchivs Gastgeber der gut besuchten Tagung.
Die Eröffnungsrede hielt danach Nigel Shadbolt, Professor der Universität Southampton und Mitglied des Public Sector Transparency Board UK. In seiner inspirierenden Rede zeigte er das weitreichende Veränderungspotential auf, das Open Government Data für Bevölkerung und Regierung hat und haben wird. Weitere Redner wie Jean-Philippe Amstein, Direktor des Bundesamts für Landestopografie swisstopo, Hans-Peter Thür, Eidgenössischer Datenschutz- und Öffentlichkeitsbeauftragter, sowie Peter Fischer, Delegierter für die Informatikstrategie des Bundes, schlossen sich Shadbolts Voten an, zeigten jedoch auch auf die Schweizerischen Herausforderungen im Umgang mit frei zugänglichen Behördendaten hin. Die deutlichen Mängel bei der heutigen Umsetzung des Öffentlichkeitsgesetzes zeigte schliesslich Martin Stoll auf, Präsident des neu gegründeten Vereins Öffentlichkeitsgesetz.ch und Leiter des Recherche-Desks der SonntagsZeitung.
Am Nachmittag widmeten sich sechs unterschiedliche Workshops vertieft dem vielseitigen Thema Open Government Data. Zum Thema Politik diskutierten Parlamentarier mit Behördenvertreter, welche Rahmenbedingungen geschaffen werden müssen, um die Freigabe von Behördendaten zu unterstützen. Im Technologie-Workshop wurden Umsetzungsszenarien diskutiert und deren Herausforderungen aufgezeigt. Die Fachrunde über rechtliche Aspekte, vorwiegend durch Juristen besucht, widmete sich den juristischen Tücken rund um das Thema Open Government Data. Journalisten und Medienarbeitende nahmen am Workshop über Data Journalism teil um sich über den neuen Trend der Recherche von grossen Datenmengen zu informieren. Die durch die Berner Fachhochschule geleitete Fachsession "Open Government Data und Business" fokussierte auf die oftmals unklaren Geschäftsmodelle basierend auf frei zugänglichen Behördendaten. Und der Wissenschafts-Workshop widmete sich schliesslich den neuen Forschungsmöglichkeiten, die sich aus den zu publizierenden Datenbeständen ergeben werden.
Als zweiter ausländischer Gastredner zeigte Rufus Pollock, Associate der Universität Cambridge und Direktor der Open Knowledge Foundation, den internationalen Kontext der weltweiten Open Government Bewegung auf und forderte die Konferenzteilnehmenden auf, mutige Schritte zur Freigabe von weiteren Behördendaten zu unternehmen. Das Schlusswort hielt Nationalrat Christian Wasserfallen, der zweite Co-Präsident der Parlamentarischen Gruppe Digitale Nachhaltigkeit. Er motivierte alle Konferenzteilnehmenden, das an der Tagung lancierte Schweizer Open Government Data Manifest ernstzunehmen und bei der Umsetzung der Forderungen aktiv mitzuwirken.
Veranstaltet wurde die opendata.ch 2011 Konferenz durch die Parlamentarische Gruppe Digitale Nachhaltigkeit und das Schweizerische Bundesarchiv, koordiniert durch die Swiss Open Systems User Group /ch/open. Die Veranstaltung durch itopia und Ernst & Young gesponsert. Das Schweizer Open Government Data Manifest, die Folienpräsentationen sowie weitere Beiträge der Konferenz stehen in Kürze auf der Website www.opendata.ch zur Verfügung.
Kontakt opendata.ch 2011 Konferenz
André Golliez
Projektleiter opendata.ch 2011 Konferenz, Managing Partner itopia
Tel. +41 79 669 05 52
E-Mail: golliez@itopia.ch
Dr. Matthias Stürmer
Geschäftsleiter Parlamentarische Gruppe Digitale Nachhaltigkeit, Senior Advisor Ernst & Young
Tel. +41 76 368 81 65
E-Mail: matthias.stuermer@ch-open.ch
Bild: Rolf Willi für itopia
__________________________________________________________________
ENGLISH VERSION
Bern, 24 June 2011
Open Government Data Gathers Momentum in Switzerland
With every available place taken, opendata.ch 2011, the first conference on freely accessible government data in Switzerland, took place at the Swiss Federal Archives in Berne today. The more than 150 participants, including parliamentarians, senior administrators and representatives of business, research and the media, discussed the advantages and challenges of open government data in Switzerland and agreed on some of the next key steps.
The opendata.ch 2011 conference was inaugurated by Edith Graf-Litscher, National Councillor and Co-Chair of the Parliamentarian Group for Digital Sustainability, and Andreas Kellerhals, Director of the Swiss Federal Archives. The opening address was given by Nigel Shadbolt, Professor at the University of Southampton and member of the UK's Public Sector Transparency Board. In an inspiring speech he highlighted the far-reaching transformative potential of open government data for people and governments alike, both now and in the future. Other speakers, including Jean-Philippe Amstein, Director of the Federal Office of Topography swisstopo, Hans-Peter Thür, Federal Data Protection and Information Commissioner, and Peter Fischer, the Delegate for Federal IT Strategy, echoed Shadbolt's sentiments but also pointed to the challenges for Switzerland in dealing with freely accessible government data. Finally Martin Stoll, chair of the newly created freedom of information organisation Öffentlichkeitsgesetz.ch and head of the research desk at the SonntagsZeitung newspaper, described the shortcomings in current implementation of Switzerland's Freedom of Information Act.
In the afternoon, six different workshops examined the many facets of open government data in greater depth. In the Politics session, parliamentarians and administration representatives discussed creating the conditions necessary to support the release of government data. The Technology workshop looked at specific implementation scenarios and the challenges they pose. The Legal group, which was attended mainly by lawyers, addressed the delicate legal issues associated with open government data. In the Data Journalism workshop, journalists and media representatives learned more about the new trend in researching large volumes of data. The Open Government Data und Business session, moderated by the Bern University of Applied Sciences, focused on the frequent lack of clarity in business models based on freely accessible government information, while the Science workshop considered the new research opportunities that will result from publication of the databases.
The second guest speaker from abroad, Rufus Pollock, Associate of the University of Cambridge and Director of the Open Knowledge Foundation, talked about the international context of the global open government movement and called on conference participants to take bold steps towards obtaining the release of further government data. The closing address was given by National Councillor Christian Wasserfallen, the second Co-Chair of the Parliamentarian Group for Digital Sustainability. He encouraged all participants to take seriously the Swiss open government data manifesto that was launched at the conference, and to play an active part in securing implementation of its demands.
The opendata.ch 2011 conference was jointly organised by the Parliamentary Group for Digital Sustainability and the Swiss Federal Archives. Administration was coordinated by the Swiss Open Systems User Group /ch/open and the event was sponsored by itopia and Ernst & Young. The Swiss Open Government Data Manifesto, the slide presentations and other articles on the conference will be available shortly on the website www.opendata.ch.
Update: conference slides are already available.