UPU Postal Data Hackathon 2023
23. – 24.06.2023 @ Universal Postal Union, Weltpoststrasse 4, Bern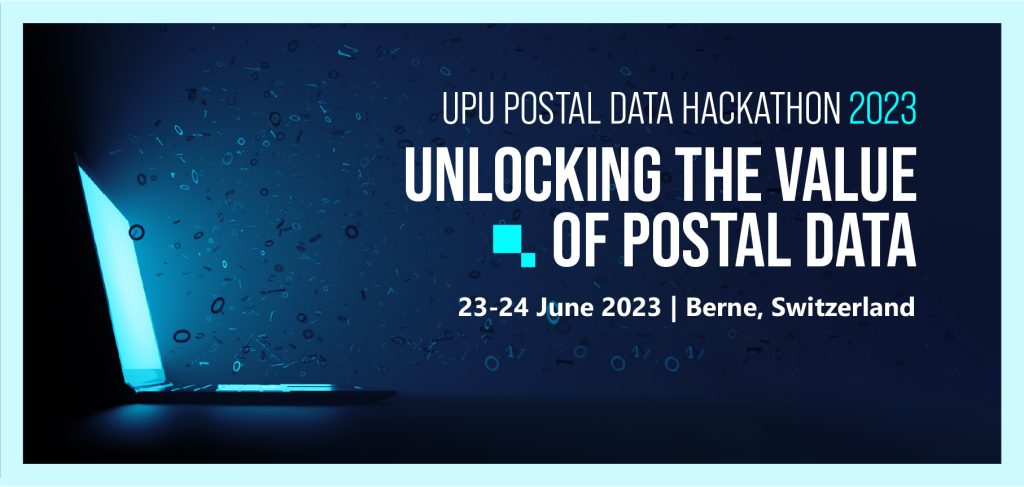 Fostering innovation is a key element of the Abidjan Postal Strategy and Business Plan for 2021–2025. The COVID-19 pandemic has accelerated the need for innovation within the postal sector. While postal operators manage an enormous amount of data, the value of this data still remains mostly untapped to generate innovative solutions. Collaboration will be critical to unlocking this potential.
In order to bring to life partnerships between postal operators, technology companies, academia and other experts to address challenges and co-create solutions though the wealth of postal data, the UPU is hosting a Postal Data Hackathon in Berne, Switzerland, on 23 and 24 June.
For the first time ever, the UPU will make available data covering the movement of mail, parcels and express items (excluding any personal details), as well as other related data. This will provide a unique opportunity to analyze movements of goods around the world through postal networks, and combine this information with other relevant trade or transport data in order to explore big questions, challenges and innovations leading to a sustainable, green and data-driven future for all.
The Postal Data Hackathon 2023 strives to:
Inspire and enable postal operators to seize the value of their data;
Foster the development of data-based solutions and insights to enhance the efficiency of the international postal network;
Encourage a spirit of data-driven innovation in the postal sector;
Facilitate multi-stakeholder collaboration to advance data-enabled innovation; and
Advance work on UN Sustainable Development Goals 9, 12, 13 and 17.
Partners
The Postal Data Hackathon is being organized by the UPU with the support of La Poste Group (France), UPU Consultative Committee member Eurora, the Swiss Federal Institute of Technology Lausanne (EPFL), and the International Telecommunication Union (ITU), as well as the sponsorship of the United States Postal Service (USPS). It is facilitated by Opendata.ch – a non-profit association strengthening transparency, participation and innovation – with contributions from data partners, including the International Civil Aviation Organization (ICAO) and the United Nations Statistics Division.
If you are interested in becoming a partner, please reach out to us at eservices@upu.int